HAT TIP

to

Paul Collins

in the UK for finding this powerful

90-minute

movie from Filipino director

Brilliante Mendoza,

and for nominating it for the annual Cli-Fi Movie Awards list for 2015.
See the CLI FI MOVIE AWARDS site at
korgw101.blogspot.com
HOLLYWOOD NEWS REVIEW
https://www.yahoo.com/movies/s/taklub-dramatizes-typhoon-haiyan-disaster-gritty-documentary-feel-021158947.html
==================================================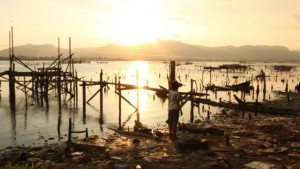 SUMMARY: After the Supertyphoon Yolanda, which changed the city of Tacloban in the Philippines into its horrendous state, the lives of Bebeth, Larry and Erwin intertwine. The survivors are left to search for the dead, while keeping their sanity intact, and protecting what little faith there may be left. A series of events continue to test their endurance.
http://www.theupcoming.co.uk/2015/05/20/cannes-film-festival-2015-taklub-trap-review/
NINA HUDSON writes :
Taklub (Trap) throws its viewers straight in at the deep end: flames, screams, chaos as a futile attempt is made to put out a fire.
Taklub
shows the aftermath of Tycoon Hayan. Living in makeshift huts and shelters, the survivors are left to pick up the pieces and rebuild their homes amid the devastation. Among them are Bebeth (Nora Aunor), Larry (Julio Diaz) and Erwin (Aaron Rivera),
each mourning those they lost in the disaster, and struggling to maintain morale as they attempt to resume their lives.
[Much of the story is filmed to create the effect of a hand-held camera in the style of a documentary, creating a sense of gritty intimacy as the three protagonists are followed about their daily lives. Combined with a set of breathtaking performances, this technique is what bridges the gap between the characters and the viewer].
''Filming through mud and torrential rain, Taklub offers just a taste of the misery wrought by the elements. However, as harrowing as the images of death and disaster may be, it's the moments between the chaos that are the most poignant; those in which reality is given the chance to sink in that imbue Taklub with the most emotion.''
''It is a sad truth that the media's sensationalist tendencies have gradually desensitised us to images of natural disasters, and the havoc they wreak on people's lives. By approaching the matter from the inside out, Taklub offers an insight into the lives of such victims; it is no longer a matter of a newsreel set to dramatic music and replayed ten times a day, this harrowing account is a true eye-opener to the plight of those who are too often dismissed and ignored by the rest of the world.''
Jean-Baptiste Morain, in his review for Les Inrocks, one of France's most important culture magazines,
said the strength of the film lies in its cinematic form and the audience is immersed in full communion with the people and events so that one is not quite sure if what he sees is the documentary or fiction
.
David Poland, in his article for Movie City News, states
"Brillante Mendoza's Taklub is also, really, a holocaust drama. The holocaust here starts with a specific family, but this becomes a symbol of the massive tragedy of tsunamis in the Philippines. Wonderful, understated performance by Nora Aunor. Slow. Painful. Real."
The Hollywood Reporter review by Clarence Tsui notes at how
"by shunning straightforward melodramatic exposition of all the varied tragic back stories, Mendoza and screenwriter Honeylyn Joy Alipio allow their characters to slowly and gently reveal their anguish and pain."
REVIEWS: "
Taklub
," a new cli fi movie by the well-known and much-admired (in Asia, for sure) Filipino director
Brillante Mendoza
, was shown at the Cannes Film Festival in May in the IN A CERTAIN REGARD section of the festival, and reviews in Variety, the Hollywood Reporter and other sites are thumbs up for this quiet, sombre and elegant story about 3 surviving families in the Philippines a year after Typhoon Yolanda ripped through the city of Tacloban. TAKLUB is a nickname in Tagalog for the city, too. An alternative title in English is TRAP.
Says Variety's film reviewer Maggie Lee in Hong Kong: "Shot in a no-frills documentary style that echoes its subjects' deprivation, the film is at once intimate and detached in its dramatic economy, though the finale will leave many viewers saddened yet humbled."
But she also says that ''[it will not be easy for ] this quiet work to make a dent in European [or American ] arthouse circles. Domestic response [in the Phlippines of course,] will be much warmer, given its relevance, but mostly thanks to the reverence that lead actress
Nora Aunor
commands.
In the closing credits, we read a ard that says, quoting from the Hebrew Scriptures that surely resonate in the Catholic nation of the Philippines, where people know the Bible inside and out:
"A time to tear down and a time to build" --
Quoting
Ecclesiastes 3:1-6
Director Mendoza
-- and yes, Brilliante is his real first name in the Philippines, where first names are often unique and memorable -- ''reflects on the material and spiritual hurdles facing disaster reconstruction efforts, questioning whether faith, charity, stoicism and hard work are of any help when the tragedy is so random, the suffering so personal and acute," Lee adds. ":Certainly the film's seemingly drive-by images of rubble everywhere testify to the havoc wreaked by Yolanda (aka Typhoon Haiyan in the West), one of the strongest tropical cyclones recorded in history and the deadliest ever to hit the Philippines. Tacloban was the economic center of the eastern Visayas region, a highly urbanized city with a population of more than 220,000 in 2010. It suffered a death toll of 7,000 when Yolanda struck on November 8, 2014, but many more are lost or unidentified.''
Cannes Film Review: 'Taklub'
Reviewed at Cannes Film Festival (''Un Certain Regard''), May. 19, 2015. Running time: 89 MIN. (Original title: "Taklub")
Production
(Philippines) A Center Stage Prods. Co. presentation and production in association with Department of Environmental and Natural Resources, Presidential Communications Operations Office Philippines Information Agency. (International sales: Films Distribution, Paris.) Produced by Loreto F. Castillo.
Crew
Directed by Brillante Ma. Mendoza. Screenplay, Mary Honeyln, Joy Alipio.
Camera
(color, widescreen, HD), Odyssey Flores;
editor
, Mats Serraon; production designer, Dante Mendoza; art director, Harley Alan V. Alcasid; sound (stereo), Addiss Tabong, Andrew Milallos; visual effects supervisor, Aileen Cornejo-Castillo; visual effects, Keep Me Posted; line
producer
, Carlo M. Valenzona; associate producer, Catherine Connell; assistant director, Charita Castinlag; second unit camera, Rogelio Flores Jr.; casting, Alexander H. Alviado.
With
Nora Aunor, Julio Diaz, Aaron Rivera, Rome Mallari, Shine Santos, Lou Veloso, Soliman Cruz, Ruby Ruiz, Sierra Perez, Maria Rosario Margallo. (Tagalog dialogue, Wayan-wayan dialect)
| | | |
| --- | --- | --- |
| Glenda Kennedy | ... | Tzu Chi Foundation Representative of the Taiwan religious group in Hualien |
Taklub Received Very Good Reviews Following Successful Premiere in Cannes




The advocacy film, Taklub, continues to receive good reviews following its successful premiere at the 68th Cannes Film Festival in France as part of the Un Certain Regard selection.

As Director Brillante Mendoza led the Taklub entourage during the premiere at the Debussy Theater, Senator Loren Legarda said she felt even prouder of this project, which she principally advocated.

The film has received positive comments from social media and good reviews from film critics. Toute La Culture gave the film 4 out of 5 stars, Cinematografo gave it 4.5 out of 5 stars, while Nina Hudson, contributor for online magazine The Upcoming, gave it perfect 5 stars.

Jean-Baptiste Morain, in his review for Les Inrocks, one of France's most important culture magazines, said the strength of the film lies in its cinematic form and the audience is immersed in full communion with the people and events so that one is not quite sure if what he sees is the documentary or fiction.

The same review commended the film's cinematography and production design, but stressed that it is the "overall controlled performances from the cast - ranging from veterans like (Nora) Aunor and (Julio) Diaz, to younger faces like (Aaron) Rivera and (Shine) Santos - which propels the film."

Meanwhile, Variety review by Maggie Lee stresses at how the film "is more concerned with their emotional devastation than with the physical aftermath. Shot in a no-frills documentary style that echoes its subjects' deprivation, the film is at once intimate and detached in its dramatic economy, though the finale will leave many viewers saddened yet humbled."

Legarda said she is happy with the positive reviews and noted that Debussy Theater was full during the official screening of the film.

"Filipinos should be proud of Taklub because through this film we are able to inspire by showcasing the resilient Filipino spirit and we also impart the important message of building resilience against disasters," she said, noting that it is the first time an advocacy film was screened in the Un Certain Regard section of Cannes.

Taklub was produced by the Department of Environment and Natural Resources (DENR), in cooperation with the Presidential Communications Operations Office-Philippine Information Agency (PCOO-PIA), with the support of Senator Loren Legarda, principal advocate of the project.***

Here are the links to the film reviews:




News