PHOTO BY YANN QUERO,
titled
"THE MADONNA OF GLOBAL WARMING"
-- taken in France outside a Catholic Church where a severely weather-beaten statue of the Virgin Mary remains in view to passersby.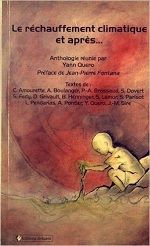 Edited by French writer Mr. Yann Quero,
"Le réchauffement climatique et après"
was published by Editions Arkuiris in 2014.
Arkuiris
is now actively looking for an English-language publisher in either the USA, the UK or Australia to put out an English edition of the collection of the 14 short stories and arrange for and pay for the translation of the stories.
[For publication inquries overseas, please use email to contact
danbloom@gmail.com
and we will forward your message to Arkuiris.]
The tentative English title, based on the French title, is
''GLOBAL WARMING AND AFTER: AnAnthology of 14 short stories by French climate fiction writers ''
In this anthology our future is in the spotlight though 14 short stories by French writers. including one story by Yann Quero titled "Tropical Snow."
Welcome to the near and distant future, where global warming has already taken place. The 14 authors in the anthology offer readers their vision of the survival of humanity (or its
eventual demise
) after runaway climate change, which we humans have caused, has run its course.
It is hard to really understand the global warming threat that is so far has had a limited direct impact on our lives in France and worldwide. So these 14 Cli-Fi short stories are here to help us understand that no one really knows what future will be. But we can use our imaginations to peer into future times.
The stories in this book are not intended to make us feel guilty but rather to give us inspired writing that makes for pleasant reading, often surprising reading, and even, in the end, gives way to
hope.
"There are therefore many points of view presented here, different narrative styles and
various imagined futures," Yann Quero says. "The stories are all different, although they deal with
the same subject, and they show some of the same causes and sometimes share the same
ends.''
The 14 stories, with temporary titles in Enlglish here for future translators to contemplate, and their authors are:
Cyril Amourette, "The War of the Trees"
Anthony Boulanger, "The Advent of the Dryads"
Pierre-Antoine Brossaud, "2073, the Year of the Rain"
Fabien Clavel, "Look at the Wind turbines"
Stéphane Dovert, "The Declining flame of Shratonprincess"
Sophie Fedy, "The Last Queen"
Djane Grivault, "It'S time, My Angel"
Bernard Henninger, "My Heart is Crying, Leda"
Sylvain Lamur, "Ernest"
Sébastien Parisot, "From Earth and Blood"
Laurent Pendarias, "Klimat Yuga"
Arnauld Pontier, "The Man of Sand"
Yann Quero, "Tropical Snow"
Jean-Marc Sire, "Bathed by the Dazzling Light of Tomorrow that Sparkles"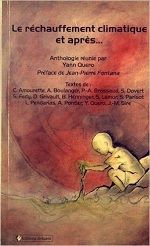 ACTU SF
https://www.actusf.com/detail-d-un-article/Le-rechauffement-climatique-et.html